With Winter fast approaching, there is no better time to rug up and get out to your local galleries and with borders reopening, to even travel interstate.
There's really no excuse not to get out there !!
From thought-provoking to humorous, here are our recommendations of current and upcoming exhibitions from all around Australia that we describe as "unmissable"! 
1. ~ 23rd Biennale of Sydney
Until 13th June
Various locations | Sydney
One of Australia's leading contemporary art events is back again. The theme of the 23rd Biennale of Sydney is rīvus which, across a number of locations and galleries, looks to explore ideas of Indigenous environment, science and philosophy.
~
2. ~ Yayoi Kusama
The Spirits of the Pumpkins Descended into the Heavens 
Until March 2023
Art Gallery of South Australia | Adelaide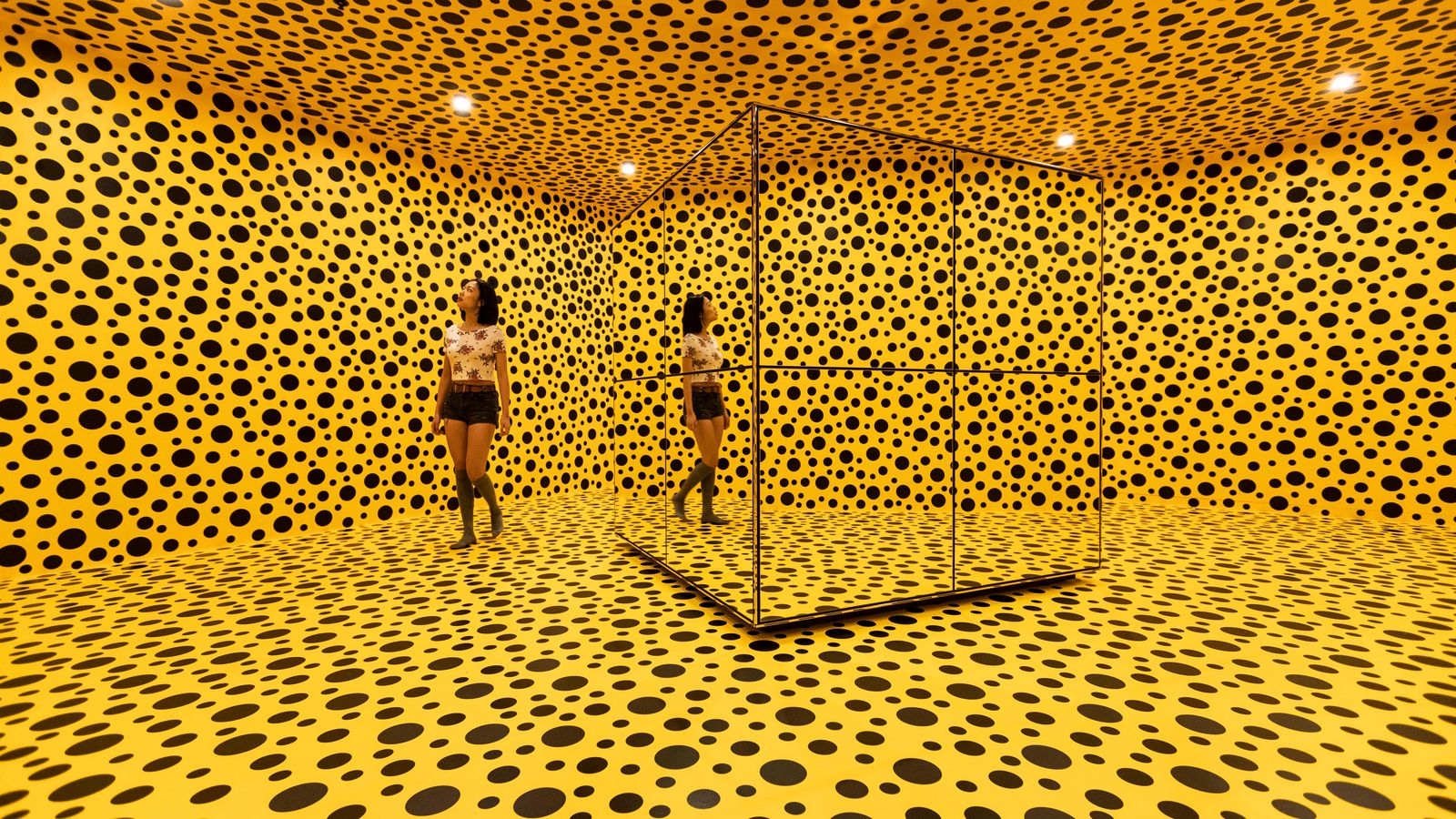 "The world I see is endless space." – Yayoi Kusama
Described as "the world's most popular artist", Yayoi Kasuma has a six decade career under her belt. Known for her repetitive polka-dots and bold contrasting colours, The Art Gallery of South Australia have recently opened "The Spirit of the Pumpkins Descended Into the Heavens", which is an immersive and sensory experience and installation of mirrors, polka dots and spotty pumpkins.
~
3. ~ Chiharu Shiota
The Soul Trembles
18th June ~ 3rd October
QAGOMA | Brisbane
'The Soul Trembles' highlights twenty-five years of Chiharu Shiota's artistic practice. Internationally renowned for her transformative, large-scale installations constructed from millions of fine threads that cluster in space or form complex webs that spill from wall to floor to ceiling.  Shiota's beautiful and disquieting works express the intangible: memories, dreams, anxiety and silence. 'Chiharu Shiota: The Soul Trembles' is the largest solo exhibition of the artist's work to date and centres on these seductive constructions, contextualising them with works on paper, sculpture and documentation of the artist's performance and theatre practice.
~
4. ~ 4th National Indigenous Art Triennial: Ceremony
Until 31st July
National Galley of Australia | Canberra
Curated by Hetti Perkins, Arrernte and Kalkadoon peoples, this immersive exhibition's theme is Ceremony. Ceremony remains a central creative practice for many Aboriginal and Torres Strait Islander artists. At the heart of this exhibition, is how ceremony is celebrated in film, image, media, music, dance and performance.
~
5. ~ The Picasso Century
10th June ~  9th October
National Galley of Victoria | Melbourne
The National Gallery of Victoria proudly presents their Winter Masterpieces exhibition The Picasso Century, which looks to chart the extraordinary life and career of Pablo Picasso. It simultaneously looks at the many artists, poets, intellectuals and patrons who inspired and motivated him including Guillaume Apollinaire, Georges Braque, Salvador Dalí, Alberto Giacometti, Françoise Gilot, Valentine Hugo, Marie Laurencin, Dora Maar, André Masson, Henri Matisse, Dorothea Tanning and Gertrude Stein.
~
6. ~ Telstra NATSIAA
National Aboriginal & Torres Strait Islander Art Awards
6th August ~  15th January
MAGNT | Darwin
The Telstra National Aboriginal and Torres Strait Islander Art Awards (NATSIAA) annual exhibition demonstrates the richness and diversity of current contemporary Indigenous artistic practice, and the pre-eminence of Aboriginal and Torres Strait Islander voices, nationwide, within the visual arts.
Awards Ceremony – Friday 5 August 2022
~
7. ~ Archibald Prize 2022
14th May ~  28th August
AGNSW | Sydney
Australia's most well known art prize returns for another year. This year saw the highest known number of entries from Aboriginal artists (20) and the highest number of Aboriginal finalists in the Archibald, Wynne and Sulman Prizes overall (27).
~
8. ~ 2022 Adelaide Biennial of Australian Art
Free/State
Until 5th June
AGSA &  various locations across the city | Adelaide
The 2022 Adelaide Biennial of Australian Art exhibition Free/State explores ideas of transcending states, from the spiritual and artistic to the psychological, and embraces notions of freedom in expression, creation and collaboration.
Curator: Sebastian Goldspink
~
9. ~ Tracks We Share
Contemporary Art of the Pilbara
Until 28th August
Art Gallery of W.A. | Perth
Celebrating Aboriginal artists and artwork of Western Australia's Pilbara region is the landmark exhibition Tracks We Share, a collaboration between Western Australian non-profit arts and cultural organisation FORM; the Art Gallery of Western Australia; Aboriginal art centres Cheeditha Art Group, Juluwarlu Art Group, Martumili Artists, Spinifex Hill Studio, and Yinjaa-Barni Art; and independent artists Katie West, Curtis Taylor, and Jill Churnside.
~
FREE DELIVERY AUSTRALIA WIDE
1,000+ ARTISTS
SAFE & SECURE PAYMENTS | 7 DAY SATISFACTION GUARANTEE