It's school holidays, it's Easter and you're looking for something to do?
We are here to help with 5 creative delights you won't want to miss!
#1 – Bleach*
The Gold Coast Festival – 17-28 April
Taking place in venues across the Gold Coast
Quintessentially Gold Coast, Bleach* Festival celebrates the city's most dynamic and adventurous artists, welcomes renowned Australian and international collaborators and engages a broad audience through a range of events. Utilising the Gold Coast's world-famous natural landscape as unconventional venues, Bleach* Festival aims to deliver incredible arts and cultural experiences that challenge expectations, change perceptions and provide a unique and authentic sense of place, inspiring both locals and visitors alike.
~
#2 – Eat the problem
13 April – 2 September
MONA – Tasmania
Eat the Problem is the culmination of Kirsha Kaechele's lifelong quest to turn flaws into features, shit into gold.
What happens if we do something with our problems, rather than simply bemoan them? In this case, the problem lies with species that invade and degrade native ecologies. And the solution, perhaps, is to eat them.
Kirsha has made a book about it (typically, gob-smackingly deluxe), and created an exhibition to go with it (with a little help from some friends). The exhibition includes feasts, performances, and treatments, scientifically proven to make you 100 per cent less boring and bad.
~
#3 – Chinese bible: revolution and art in China
Until 28 April
Art Gallery NSW – Sydney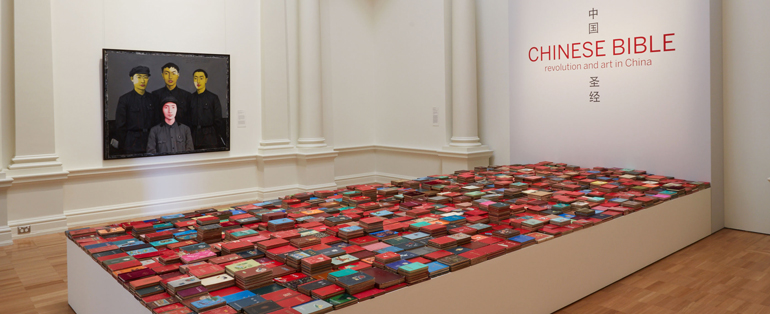 This exhibition features artist Yang Zhichao's Chinese bible, a monumental installation of 3000 notebooks and diaries inscribed between 1949 and 1999. These small books were collected by the artist from Beijing markets from 2005 to 2008 and ritually washed before presentation. Once owned by people of all ages and backgrounds, they reveal handwritten notes ranging from the experience of falling in love to the ideological slogans of the Cultural Revolution.
Yang Zhichao's Chinese bible is accompanied by works by other celebrated contemporary Chinese artists including Zhang Xiaogang.
~
#4 – The National 2019: New Australian Art
Until 23 June
MCA / Carriageworks / Art Gallery NSW – Sydney
The National 2019: New Australian Art presents the latest ideas and forms in contemporary Australian art, curated across three of Sydney's premier cultural institutions: the Art Gallery of New South Wales, Carriageworks and the Museum of Contemporary Art Australia. A 6-year initiative over 3 editions in 2017, 2019 and 2021, the curatorial vision for the exhibition represents a mix of emerging, mid-career and established artists drawn from around the country and Australian artists practicing overseas. New and commissioned works encompass a diverse range of mediums including painting, video, sculpture, installation, drawing and performance. Connecting three of Sydney's key cultural precincts – The Domain, Redfern and Circular Quay – The National 2019: New Australian Art is the only large-scale recurring exhibition in the city focused solely on contemporary Australian art.
~
#5 – Parrtjima – A Festival in Light
Until 14 April
Alice Springs – Mparntwe
Parrtjima is the only authentic First Nations festival of its kind, showcasing the oldest continuous cultures on earth through the newest technology – all on a 300-million-year-old natural canvas in the Red Centre. Parrtjima celebrates the ways in which artists can evolve and experiment with different styles and materials, while staying true to the ancient philosophy of connection and Country.
Set against the backdrop of the MacDonnell Ranges, Parrtjima is held on Mparntwe (Alice Springs), which always was and always will be part of the Arrernte people. Mparntwe is connected to the estates of Antulye and Irlpme, as well as a network of custodians who hold rights and responsibilities for these areas. A group of which guide and help create Parrtjima. Together they invite visitors to come and experience Parrtjima, and gain a deeper understanding of, and connection to, country and Arrernte culture.
~
Become an Art Lovers Subscriber
Subscribe today to keep up to date with what's happening at Art Lovers Australia and what's happening in the art world.
Plus as a gift to you, receive 10% off your first art purchase as well as a free download of the Art Lovers Australia 2019 book.