The Art of Album Covers
by Jarrod Knight
---
I LOVE MUSIC !!! That is a simple fact that anyone who knows me, knows. And I also love art, so a good album cover really goes a long way with me. An album cover is so much more than somewhere for a musician or band to stamp their name and the album's title. The right images and layout can really help create a totally immersive experience and sense of joy.
If I can be honest, and I will,…I have become saddened on occasions when I've searched out music that I really love, only to letdown by a very ordinary album cover. YES I still bought the album, because of the music, but I still had that sense that they kinda 'dropped the ball' at the last minute by not really putting much thought into the visuals.
However, thankfully, some musicians totally embrace the need for engaging and interesting images for their covers with some even enlisting the help of known artists. Whether it's Andy Warhol designing for The Velvet Underground or Banksy creating a Blur album cover, there are some truly memorable album covers out there to be enjoyed alongside music, and here for you, are just a few….
JACKIE GLEASON'S "LONESOME ECHO" BY SALVADOR DALI
In 1955, Jackie Gleason asked his dear friend Salvador Dalí to design the album cover for his Lonesome Echo record. In the record's liner notes Dalí wrote a description of his artwork: "The first effect is that of anguish, of space, and of solitude. Secondly, the fragility of the wings of a butterfly, projecting long shadows of late afternoon, reverberates in the landscape like an echo. The feminine element, distant and isolated, forms a perfect triangle with the musical instrument and its other echo, the shell."
RAMMELLZEE AND K-ROB'S "BEAT BOP" BY JEAN-MICHEL BASQUIAT
There's a funny story about how Jean-Michel Basquiat came to design the cover for Rammellzee and K-Rob's 1983 single Beat Bop. It apparently all began when Rammellzee, a rapper and graffiti artist in his own right, called Basquiat a "fraud," to which Basquiat responded that he could "out-paint, out-dance, and out-rap anybody." And so the proverbial gauntlet had been thrown down, but the act itself seemed to help quell the boiling rivalry between the two with Basquiat eventually designing the Beat Bop cover.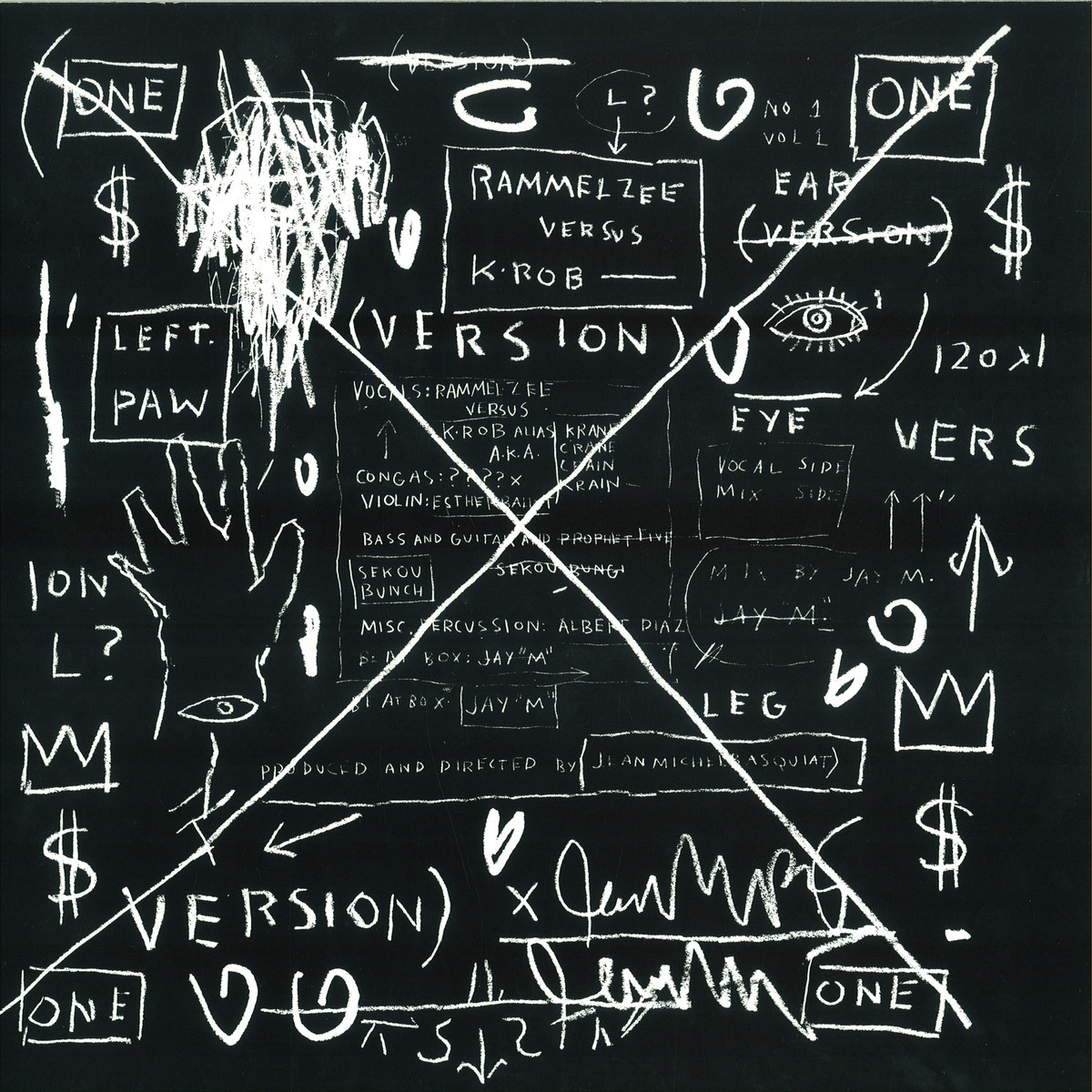 But, by Basquiat misspelling Rammellzee's name, he was short one "L",…this led many to believe that this was one rap battle where Basquiat came out the victor.
RADIOHEAD'S "A MOON SHAPED POOL" BY STANLEY DONWOOD
Stanley Donwood has designed every one of Radiohead's album covers since The Bends, including the album art for the British band's latest record, A Moon Shaped Pool. He created the artwork in a barn near the studio where the band recorded the album, with speakers wired between the two buildings so Donwood could hear the process. He then reacted "in acrylic" to what he heard.
THE SMASHING PUMPKINS' "ZEITGEIST" BY SHEPARD FAIREY
Street artist Shepard Fairey designed the album art for The Smashing Pumpkins' seventh studio album, 2007's Zeitgeist. Wanting to make a political statement on climate change, the artist created a black-and-red image of the Statue of Liberty about to be submerged underwater.
"I think global warming is an issue that is currently relevant, time sensitive, and a symptom of the shortsightedness of the U.S.," Fairey told The Gauntlet. "As a broader metaphor, the drowning Statue of Liberty, a revered icon of the U.S., symbolizes the eminent demise of many of the ideals upon which the nation was founded. Civil liberties, freedom of speech, privacy, etc. have been decreasing since 9/11. The sun in the image could either be setting or rising and this ambiguity shows that there is still hope to turn things around."
SONIC YOUTH'S "DAYDREAM NATION" BY GERHARD RICHTER
German visual artist Gehard Richter's 1983 painting "Kerze" was used for the cover of Sonic Youth's fifth studio album Daydream Nation. It wasn't the first, or last artwork that Sonic Youth would use for their album covers. Sonic Youth's discography could almost double as an entry class in Contemporary Art 101.
Some of the other artists to feature on Sonic Youth covers include Raymond Pettibon, Richard Kern, Mike Kelley, Marnie Weber and the American painter and photographer, Richard Prince.
PATTI SMITH'S "HORSES" BY ROBERT MAPPLETHORPE
Photographer Robert Mapplethorpe snapped the cover of Patti Smith's debut studio album, Horses, in 1975. The photo was taken using only a Polaroid camera and the natural light in the apartment. The record company made attempts to alter the image, but Smith would not allow it. According to Smith, Mapplethorpe only had one rule for the photo shoot; if she wore a white shirt, it couldn't be a dirty one. "I got my favourite ribbon and my favourite jacket, and he took about 12 pictures", recalls Smith. By the eighth photo Mapplethorpe had exclaimed "I got it."
KANYE WESTS' "GRADUATION" BY TAKASHI MURAKAMI
In 2007, Kanye West commissioned Japanese artist Takashi Murakami to create the anime-inspired cover art for West's Graduation album. Often called "the Warhol of Japan", Murakami's surrealistic visual art is characterized by cartoonish creatures that appear friendly and cheerful at first glance, but possess dark, twisted undertones
Murakami said, "The cover is based on Kanye's theme of student life. School. It's a place of dreams, of righteousness, a place to have fun. It's also occasionally a place where you experience the rigid dogma of the human race. Kanye's music scrapes sentimentality and aggressiveness together like sandpaper, and he uses his grooves to unleash this tornado that spins with the zeitgeist of the times. I too wanted to be swept up and spun around in that tornado."
LADY GAGA'S "ARTPOP" BY JEFF KOONS
Lady Gaga recruited artist Jeff Koons to design the album cover for ARTPOP. He created a nude sculpture of Gaga with a giant glistening blue sphere between her legs and fragments of famous works of art, like The Birth of Venus, behind her.
"With the cover, I wanted to have Gaga there as a sculpture, as a three-dimensional type of form and with the gazing ball," Koons told MTV. "Because the gazing ball really does become kind of the symbol for everything—and this aspect of reflection that when you come across something like a gazing ball, it affirms you, it affirms your existence and then from that affirmation, you start to want more."
THE VELVET UNDERGROUND & NICO'S "THE VELVET UNDERGROUND & NICO" BY ANDY WARHOL
Before finding worldwide fame, The Velvet Underground was the house band at Andy Warhol's Factory. So it makes sense that the legendary artist would design their self-titled debut. Early copies featured a peel-away yellow banana skin sticker that revealed a bare pink banana. The album art was expensive to manufacture, which delayed the album's release, but the record label believed the cost was worth the effort if it meant having Warhol's name attached.
"He just made it possible for us to be ourselves and go right ahead with it because he was Andy Warhol," Lou Reed once said. "In a sense he really did produce [the album] because he was this umbrella that absorbed all the attacks when we weren't large enough to be attacked."
THE MARS VOLTA'S "THE BEDLAM IN GOLIATH" BY JEFF JORDAN
Having previously contributed the artwork to the 2006 release of The Mars Volta's album Amputechture, Jeff Jordan was again brought in to handle the illustrations for the album, creating 11 original paintings to coincide with the theme of The Bedlam in Goliath, as well as including a piece from his own gallery. The piece used for the cover is entitled "Agadez"
DEBBIE HARRY'S "KOOKOO" BY H.R. GIGER
A year after winning an Academy Award for his design work for Alien, H.R. Giger created the album art for Debbie Harry's 1981 debut solo record, KooKoo. The album cover features Giger's iconic "bio-mechanical" design, as it merges Harry's face with giant acupuncture needles. Giger also directed the music video for "Backfired," the lead single off of KooKoo, along with "Now I Know You Know," which features the same themes and style.
THE GO-BETWEENS' "SEND ME A LULLABY" BY JENNY WATSON
Melbourne artist Jenny Watson painted the cover of the The Go-Betweens debut album Send Me a Lullaby. The portraits were later purchased by the Australian National Portrait Gallery. Forster claimed, "She got the three of us with precision, placing us on the album with the touch of a master psychologist."
BLUR'S "THINK TANK" BY BANKSY
Blur enlisted enigmatic street artist Banksy to design the album art for 2003's Think Tank. He created a couple embracing, as they both wore deep sea diving helmets. Although Banksy usually doesn't create commercial art, he made the decision to work with Blur because he was a big fan of their sound. The original piece later sold at auction for £75,000 (about $110,000) in 2007.
"I've done a few things to pay the bills, and I did the Blur album," Banksy said. "It was a good record and [the commission was] quite a lot of money. I think that's a really important distinction to make. If it's something you actually believe in, doing something commercial doesn't turn it to sh*t just because it's commercial."
DIRE STRAITS' "ALCHEMY" BY BRETT WHITELEY
The album cover for Dire Straits live album Alchemy was adapted from a section of an original painting by Australian artist Brett Whiteley called "Alchemy", which was created between 1972 and 1973. The section featured on the cover of the Dire Straits album had the addition of a guitar with lips held by a hand.
The original painting is composed of many different elements and on 18 wood panels (203cm x 1615cm x 9cm). Reading from left to right it begins with an exploding sun from a portrait of Yukio Mishima that Whiteley had started but never completed. The famed author Mishima had committed seppuku in 1970 and the literary mythology that arose of his apparent final vision of enlightenment in the form of the exploding sun,as he pressed the knife into his body inspired and became the basis for this work. In terms of media it used everything from feathers and part of a birds nest to a glass eye, shell, plugs and brain in a work that becomes a transmutation of sexual organic landscapes and mindscapes. It has been regarded as a self-portrait, a giant outpouring of energy and ideas brought forth over a long period of time. According to art writer Bruce James the self conscious inclusion of the austere pronoun 'IT' that also makes up part of the work compacts life, passion, death and faith in a single empowering word and unites the notional wings of an altarpiece to nascent addiction. Alchemy.
KORN'S "FOLLOW THE LEADER" BY TODD MCFARLANE
American nu metal band Korn, approached Canadian-American comic book creator and entrepreneur Todd McFarlane to create the cover for their 3rd album Follow the Leader. According to Korn's drummer David Silveria, the band got interested in McFarlane after hearing that "Todd had actually referred to us as 'The Doors of the 90's'." The cover art depicts a child hopscotching off a cliff and a gathering of kids waiting to follow, a concept that begun with bassist Reginald "Fieldy" Arvizu and sketched by a friend of Korn lead singer Jonathan Davis before being submitted to McFarlane.
McFarlane became a comic book superstar due to his work on Marvel Comics' Spider-Man franchise, on which he was the artist to draw the first full appearances of the supervillain Venom. In 1992, he helped form Image Comics, pulling the occult anti-hero character Spawn from his high school portfolio and updating him for the 1990s. Spawn was a popular hero in the 1990s and encouraged a trend in creator-owned comic book properties.
~
Are you an Art Lovers Subscriber?
Subscribe today to keep up to date with what's happening at Art Lovers Australia and what's happening in the art world.
Plus as a gift to you, receive 10% off your first art purchase.