#1 – A BLANK CANVAS
Robert Hollingworth
A witty portrayal of family rivalry
Welcome to the weird and wonderful world of contemporary art. In A Blank Canvas, award-wining artist and writer Robert Hollingworth exposes the underbelly of the art world in all its ugly and hilarious glory.
A renowned abstract artist, the curmudgeonly octogenarian Giles Paumen is head of a family of artists, each of whom he considers less talented than himself. His son, Laurence is a conceptual artist and lecturer because, unlike his father, he can't paint at all. However, granddaughter Sophie has inherited the genes and is making a name for herself as a painter of massive portraits.
When a new Australian national art prize is announced, each of the Paumens secretly enters, the prize galvanizing them to go off in new directions.
~
#2 – THE WOMAN ON THE STAIRS
Bernhard Schlink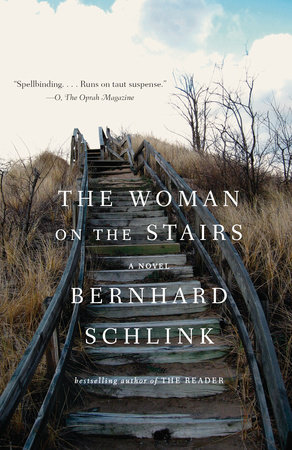 In a museum far from home a lawyer stumbles across a painting of a woman he one knew, Irene. Decades before, he had become entangled in her affairs when he was called on to settle a dispute between her husband, who had commissioned the portrait and the painter of the work – who was also her lover.
Now face to face with the portrait once again the lawyer must reconcile his past and present selves and the truth of his love.
Set largely in Australia, this is a poignant intricately crafted novel, of obsession, creativity and love.
'Has the grip of a mystery… A satisfying ending… keeps the novel alive after the last page has been turned'.
– Washington Times
~
#3 – THE GOLDFINCH
Donna Tartt
Inspired by Carel Fabritius' painting The Goldfinch, Donna Tartt has hooked millions of people around the world with almost 800 pages of brilliance.
Centered around an orphaned New Yorker, Theo, The Goldfinch painting is what captivates and draws him into the underworld of art during life as a young teenager who's struggling to come to terms with the tragic loss of his mother. As an adult, Theo's life unfolds into a dark, complex and mysterious love story as he continues to struggle with loss, identity and survival.
With a Pulitzer Prize for Fiction (2014) under it's belt, the Goldfinch is a book club heavyweight.
~
#4 – CHALK: The Art and Erasure of Cy Twombly
Joshua Rivkin
Cy Twombly was a man obsessed with myth and history—including his own. Shuttling between stunning homes in Italy and the United States where he perfected his room-size canvases, he managed his public image carefully and rarely gave interviews.
Upon first seeing Twombly's remarkable paintings, writer Joshua Rivkin became obsessed himself with the mysterious artist, and began chasing every lead, big or small—anything that might illuminate those works, or who Twombly really was.
Now, after unprecedented archival research and years of interviews, Rivkin has reconstructed Twombly's life. Chalk presents a more personal and searching type of biography than we've ever encountered, and brings to life a more complex Twombly than we've ever known.
"The most substantive biography of the artist to date…propulsive, positive and persuasive."
– Holland Cotter, New York Times Book Review
~
#5 – THE SWAN THIEVES
Elizabeth Kostova
The novel revolves around a painting called Leda, by a french artist named Gilbert Thomas. Although both are fictional, painters throughout history have created canvases in tribute to the ancient Greek myth about the maiden Leda, who is seduced by Zeus in swan form. (Including the gorgeous painting above by François-Édouard Picot). Kostova puts a totally original spin on the story behind the painting, taking us from the National Gallery of Art in Washington D.C., to the office of psychiatrist Andrew Marlowe, to France circa 1800. Along the way we get passion, crime, betrayal, tons of love letters, a little bit of insanity, and some magic. The novel is a fitting homage to the power of art and storytelling.
~
Are you an Art Lovers Subscriber?
Subscribe today to keep up to date with what's happening at Art Lovers Australia and what's happening in the art world.
Plus as a gift to you, receive 10% off your first art purchase as well as a free download of the Art Lovers Australia 2019 book.