From ancient times to the present day, women throughout the world have been participating in the visual arts in diverse and stimulating ways. Be it as creators and innovators, patrons and collectors, or significant contributors to the discipline, women have been, and continue to be, integral to the art world. For the most part, however, traditional art history has systematically excluded or masked women's participation in the visual arts.
So of course, the history of art is littered with the names of great men – Leonardo da Vinci, Jackson Pollock, Vincent Van Gogh, Andy Warhol, Pablo Picasso, etc.
But what about the women who have helped shape the world of art?
Luckily now more than ever, creative women of distinction are finally being held up against their male peers and recognized positively for their contributions to art.
Here are 15 female artists you should know about..
1. YAYOI KUSAMA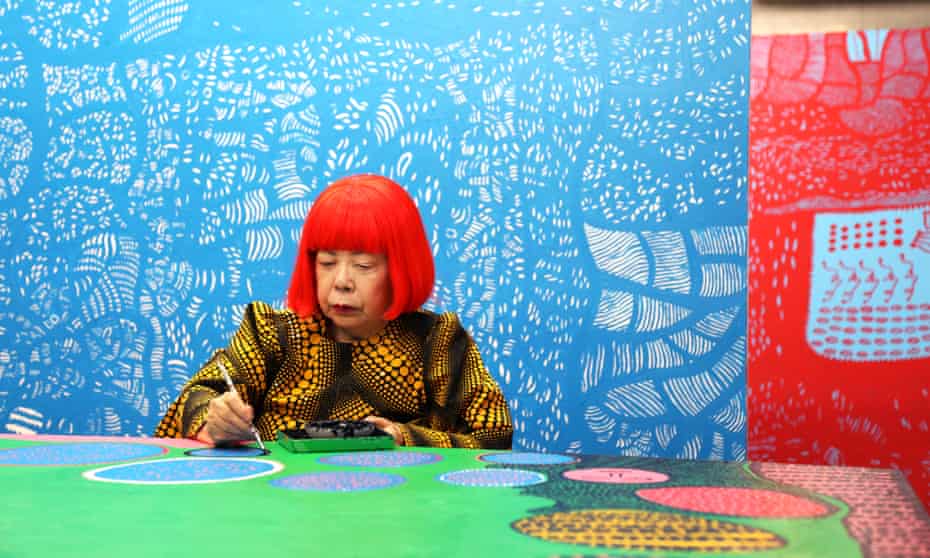 Yayoi Kusama is a Japanese contemporary artist who works primarily in sculpture and installation, but is also active in painting, performance, video art, fashion, poetry, fiction, and other arts. Her work is based in conceptual art and shows some attributes of feminism, minimalism, surrealism, Art Brut, pop art, and abstract expressionism, and is infused with autobiographical, psychological, and sexual content. She has been acknowledged as one of the most important living artists to come out of Japan.
~
2. MARGARET OLLEY
Margaret Olley is one of Australia's most significant still-life and interior painters. She drew inspiration from her home and studio and the beauty of the everyday objects she gathered around her. Many of her paintings feature arrangements of fruits and flowers, set amid the pottery, art and exotica of her travels. A widely-recognised figure in Australian art, she was a major benefactor to public institutions, and the subject of two Archibald Prize winning portraits.
~
3. GEORGIA O'KEEFFE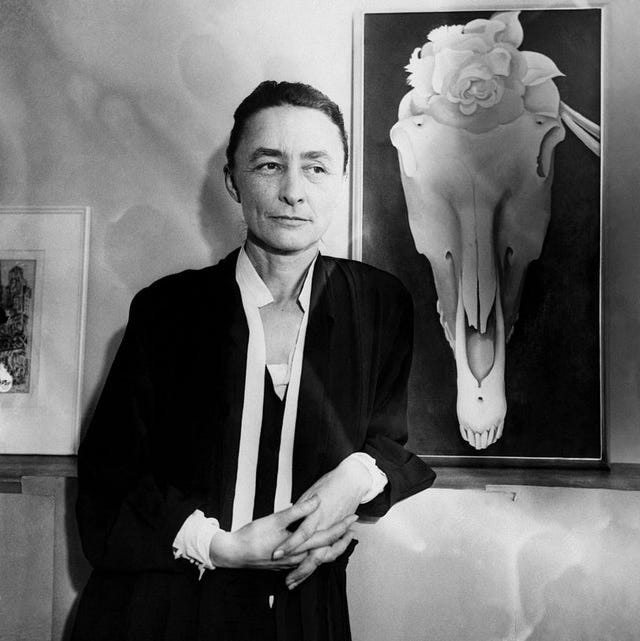 American painter Georgia O'Keeffe was among the most influential figures in Modernism, best known for her large-format paintings of natural subjects, especially flowers and bones, and for her depictions of New York City skyscrapers and architectural and landscape forms unique to northern New Mexico. Through her consistently provocative and distinctively personal approach to image making, she created a body of work that conveys the integrity of her Modernist vision, her independent spirit, and, above all, her profound sensitivity to the vitality of natural forces.
O'Keeffe played a key role in disabusing the art community and the general public of the notion that gender was in any way a determinant of artistic competence or creativity. Thus, she helped to establish a new and significant space for female artists in a realm that has continued to be dominated by men.
~
4. DEL KATHRYN BARTON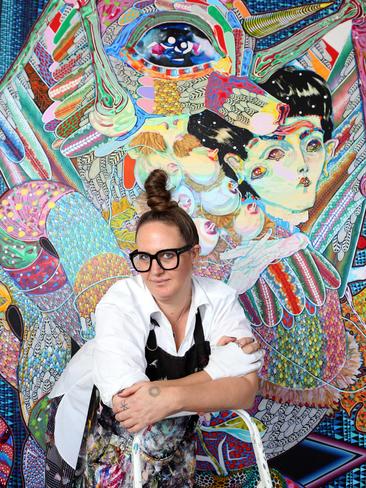 Del Kathryn Barton is an Australian painter best known for her whimsical depictions of people and animals. Her psychedelic environments are created using sequins, markers, gouache, and glitter. Female figures are the most prominent subjects among Del Kathryn Barton's paintings, especially mothers.
Winner of the Archibald Prize in both 2008 and 2013 she is widely recognised as one of Australia's leading figurative painters of her generation.
~
5. FRIDA KAHLO
Mexican artist Frida Kahlo is remembered for her self-portraits, pain and passion, and bold, vibrant colors. She is celebrated in Mexico for her attention to Mexican and indigenous culture and by feminists for her depiction of the female experience and form.
Frida has become a countercultural symbol of the 20th century, and created a legacy in art history that continues to inspire the imagination and mind. She achieved celebrity even in her brief lifetime that extended far beyond Mexico's borders, although nothing like the cult status that would eventually make her the mother of the selfie, her indelible image recognizable everywhere.
~
6. GLORIA PETYARRE
Gloria Petyarre is one of the most famous artists from the Utopia region, north-east of Alice Springs. She was one of seven sisters who are all artists, including the well-known Kathleen Petyarre, Nancy Petyarre, Violet Petyarre and Ada Bird. The artwork of the Petyarre sisters share the same Dreamings, including Arnkerrth, the Mountain or Thorny Devil Lizard, Awelye, the women's body design and stories related to a variety of bush foods. Their paintings are able to depict a wide range of designs under these Dreaming stories, with Gloria Petyarre being the most productive of the group.
Her work is rich in texture and layering, revealing an extraordinary eye for colour and pattern, and assuring her place as one of Australia's most collected Aboriginal artists.
~
7. HILMA AF KLINT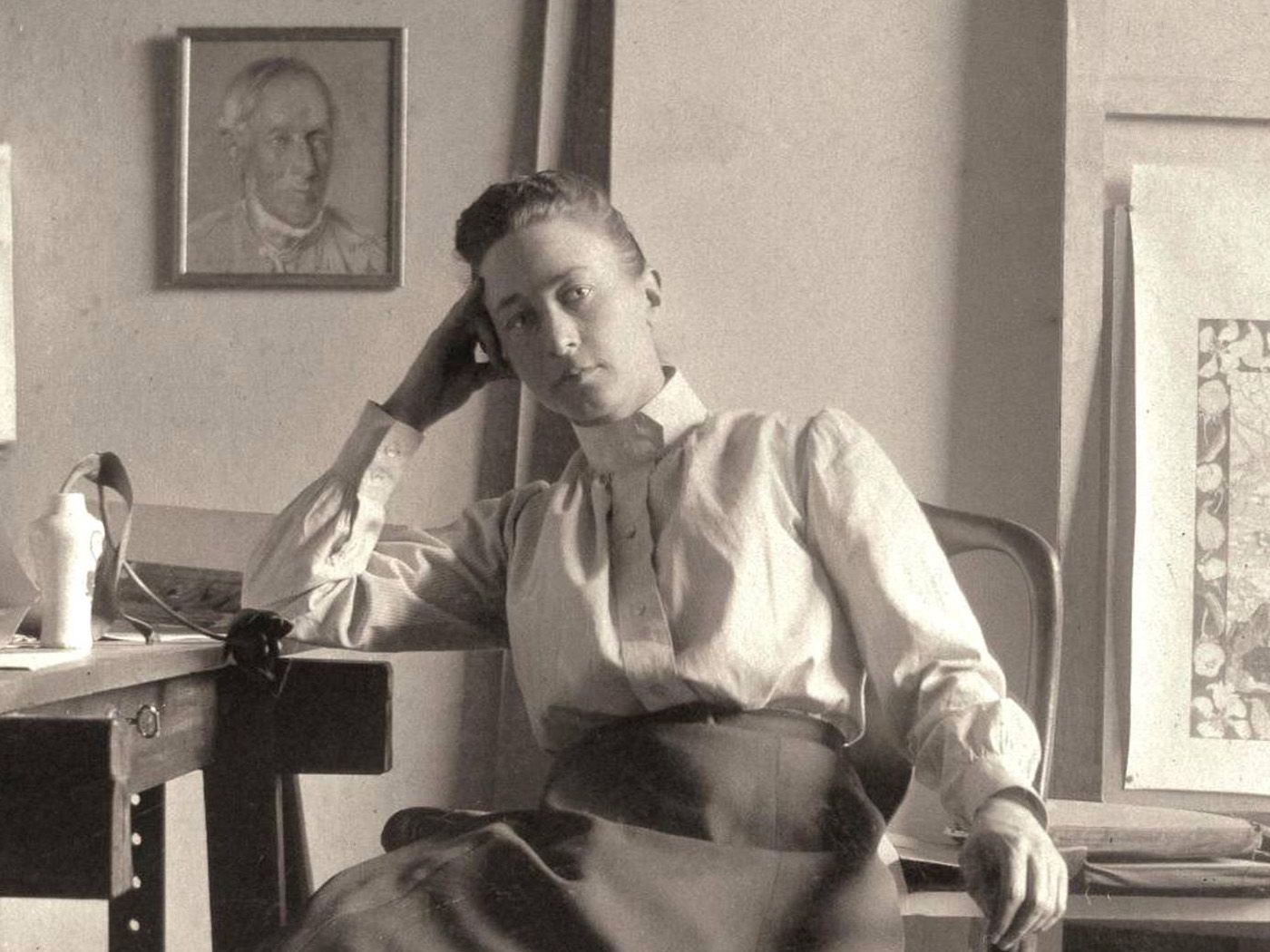 Hilma af Klint was a Swedish artist and mystic whose paintings are considered among the first abstract works known in Western art history. A considerable body of her work predates the first purely abstract compositions by Kandinsky and Mondrian.
She belonged to a group called "The Five", comprising a circle of women inspired by Theosophy, who shared a belief in the importance of trying to contact the so-called "High Masters" often by way of séances. Her paintings, which sometimes resemble diagrams, were a visual representation of complex spiritual ideas. She felt the abstract work and the meaning within were so groundbreaking that the world was not ready to see it, and she wished for the work to remain unseen for 20 years after her death. Ultimately, her work was all but unseen until 1986, and only over the subsequent decades have her paintings and works on paper begun to receive serious attention.
~
8. PATRICIA PICCININI
Patricia Piccinini's work encompasses sculpture, photography, video and drawing and her practice examines the increasingly nebulous boundary between the artificial and the natural as it appears in contemporary culture and ideas. Her surreal drawings, hybrid animals and vehicular creatures question the way that contemporary technology and culture changes our understanding of what it means to be human and wonders at our relationships with – and responsibilities towards – that which we create. While ethics are central, her approach is ambiguous and questioning rather than moralistic and didactic.
In 2016 The Art Newspaper named Piccinini with her "grotesque-cum-cute, hyper-real genetics fantasies in silicone" the most popular contemporary artist in the world after a show in Rio de Janeiro attracted over 444,000 visitors.
~
9. MARINA ABRAMOVIĆ
Marina Abramović is a Serbian conceptual and performance artist, philanthropist, writer, and filmmaker. Her work explores body art, endurance art and feminist art, the relationship between the performer and audience, the limits of the body, and the possibilities of the mind. Being active for over four decades, Abramović refers to herself as the "grandmother of performance art". She pioneered a new notion of identity by bringing in the participation of observers, focusing on "confronting pain, blood, and physical limits of the body"
~
10. MARY CASSATT
Mary Cassatt is an American painter and printmaker who was part of the group of Impressionists working in and around Paris. She took as her subjects almost exclusively the intimate lives of contemporary women, especially in their roles as the caretakers of children. During the late 1870s and early 1880s, the subjects of her works were her family (especially her sister Lydia), the theater, and the opera. Later she made a specialty of the mother and child theme, which she treated with warmth and naturalness in paintings, pastels, and prints.
It was Cassatt's role as an advisor to art collectors that benefited many public and private collections in the United States. From her early days in Paris, she encouraged the collection of old masters and the French avant-garde. Cassatt was eventually instrumental in shaping the Havemeyer collection, most of which is now in the Metropolitan Museum.
~
11. CINDY SHERMAN
Cindy Sherman is an American artist whose work consists primarily of photographic self-portraits, depicting herself in many different contexts and as various imagined characters.
For decades, Cindy Sherman has probed the construction of identity, playing with the visual and cultural codes of art, celebrity, gender, and photography. She is among the most significant artists of the Pictures Generation, a loose circle of American artists who came to artistic maturity and critical recognition during the early 1980s, a period notable for the rapid and widespread proliferation of mass media imagery.
Sherman has sought to call into question the seductive and often oppressive influence of mass-media over our individual and collective identities. Turning the camera on herself in a game of extended role-playing of fantasy Hollywood, fashion, mass advertising, and "girl-next-door" roles and poses, Sherman ultimately called her audience's attention to the powerful machinery and make-up that lay behind the countless images circulating in an incessantly public, "plugged in" culture. Sexual desire and domination, the fashioning of self-identity as mass deception, these are among the unsettling subjects lying behind Sherman's extensive series of self-portraiture in various guises. Sherman's work is central in the era of intense consumerism and image proliferation at the close of the 20th century.
~
12. JOY HESTER
Joy Hester produced some of the most distinctive and intriguing imagery to emerge in Australia during the 1940s and 1950s. She was a member of the Angry Penguins movement and the Heide Circle who played an integral role in the development of Australian Modernism.
Working almost exclusively with brush and ink, she focused on potent expressions of the human figure, using drawing as a vehicle to grasp life in all its complexity. Hester was unafraid to explore subjects considered highly provocative during her lifetime: love, sex, birth, and death. Her intense and forceful drawings, often made rapidly while seated on the floor, reveal her affinity and insight into the complexities of life and exude a quality of intimacy that reflects her interest in personal relationships as a source for her artistic subjects.
~
13. CAMILLE HENROT
Camille Henrot is one of the most compelling contemporary artists working today. Born in Paris in 1978, she lives and works between New York City and Berlin. The practice of Henrot moves seamlessly between film, painting, drawing, sculpture and installation. She references self-help, online second-hand marketplaces, cultural anthropology, literature, psychoanalysis, and social media to question what it means to be at once a private individual and a global subject.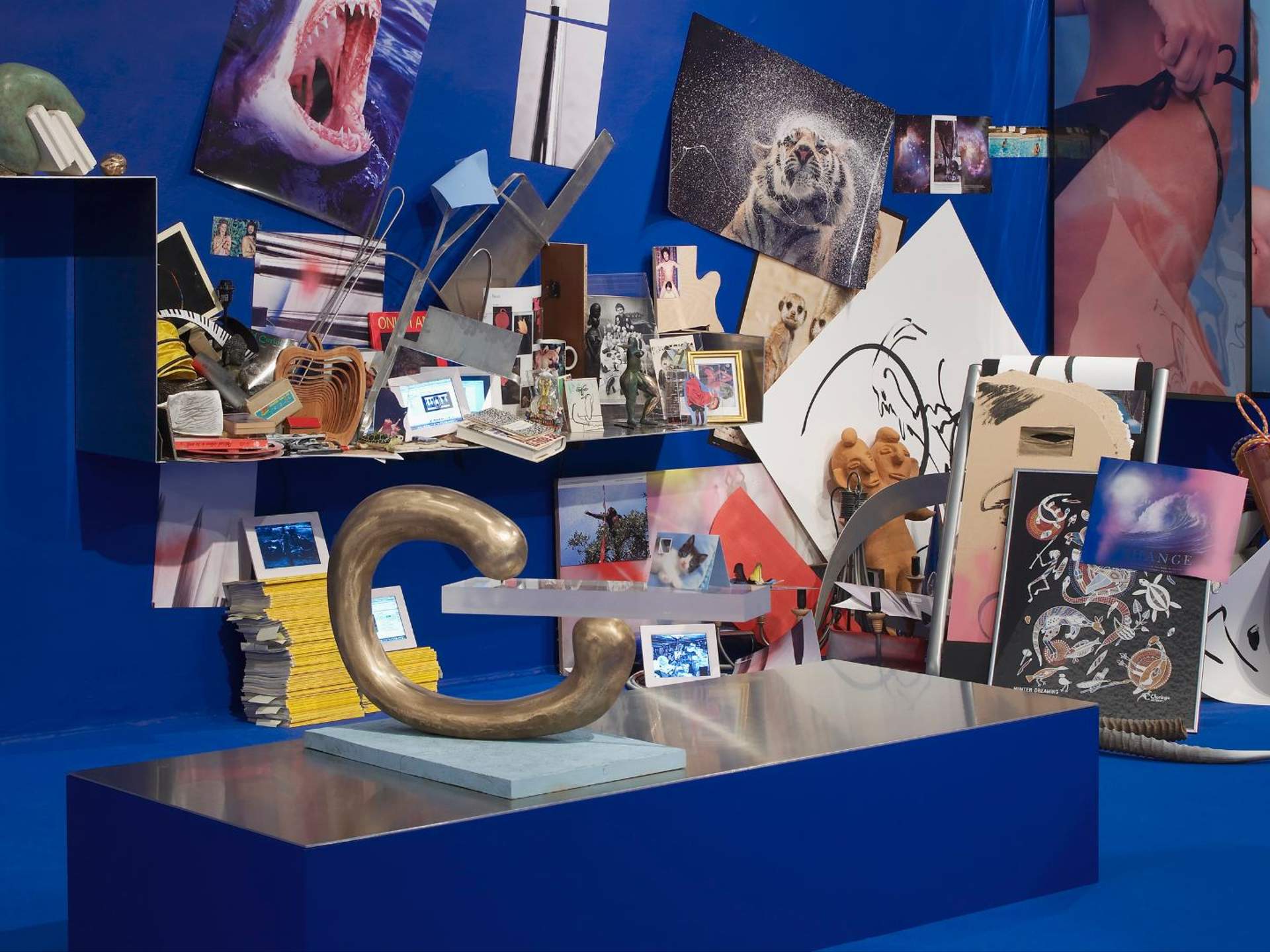 Camille Henrot is interested in confronting emotional and political issues, and looking at how ideology, globalization, belief and new media are interacting to create an environment of structural anxiety. The changing modes of information distribution and interpersonal connections, the relationships between individual experiences and macroscopic dynamics, as well as between images and language, are at the center of her works.
~
14. KAYLENE WHISKEY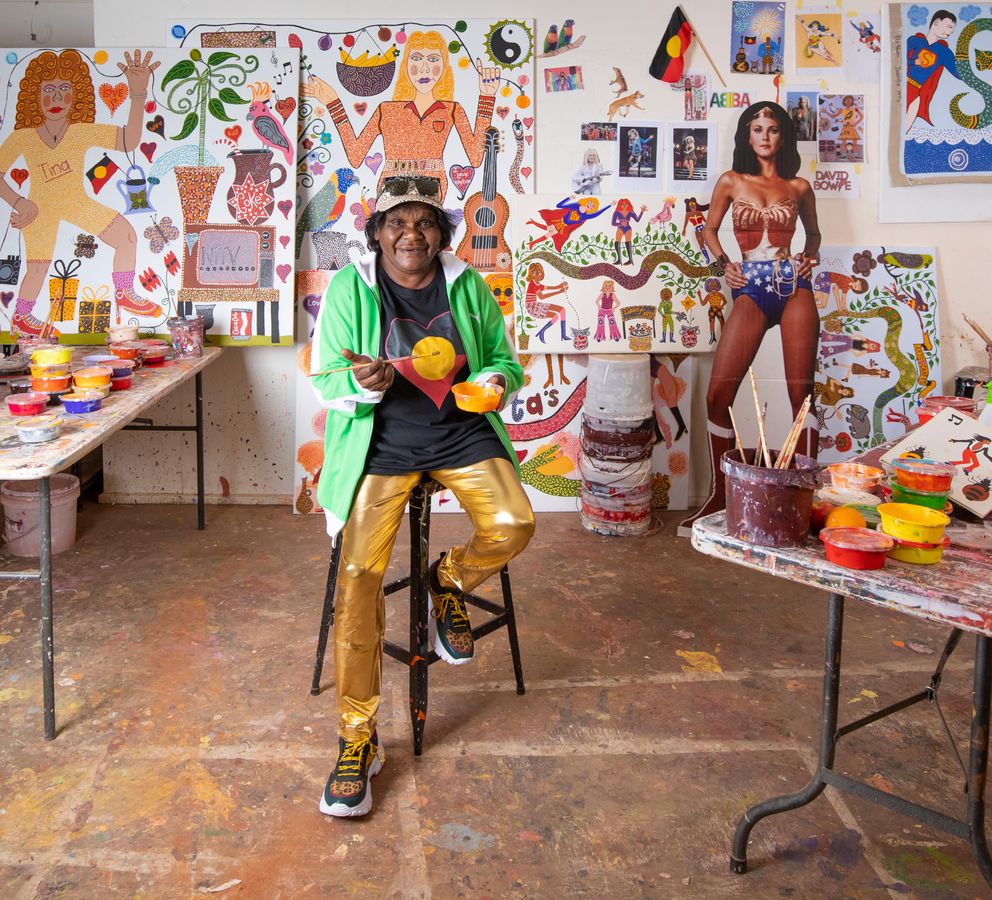 Kaylene Whiskey is an artist who is quickly turning into a household name, in part due to her winning the 2018 Sir John Sulman Prize at Art Gallery of NSW (AGNSW).
Whiskey's painting style is distinct. She uses a combination of cartoon speech bubbles, flat two-dimensional planes of colour and 'dot' iconography deeply connected to a history of central desert painting to tell her stories. While painting, she listens to a variety of rock'n'roll, country and pop music. She checks social media, plays films or NITV – the National Indigenous Television channel – in the background, all of which is incorporated into her work. Under Whiskey's paintbrush, icons like Cher and Dolly Parton, even hybrid characters such as Whiskey's own 'Black Wonder Woman', are re-staged in the desert. They become kungka kunpu – strong women – talking in language, tending to or harvesting bush tucker, and almost always preparing for a party.
~
15. ROSALIE GASCOIGNE
Rosalie Gascoigne is renowned for her sculptural assemblages of great clarity, simplicity and poetic power. Using natural or manufactured objects, sourced from collecting forays, her work radically reformulated the ways in which the Australian landscape is perceived.
Gascoigne exhibited at the Venice Biennale in 1982, becoming the first female artist to represent Australia there and in 1994 she was awarded the Order of Australia for her services to the arts.
~
1,000+ ARTISTS | FREE DELIVERY AUSTRALIA WIDE
SAFE & SECURE PAYMENTS | 7 DAY SATISFACTION GUARANTEE